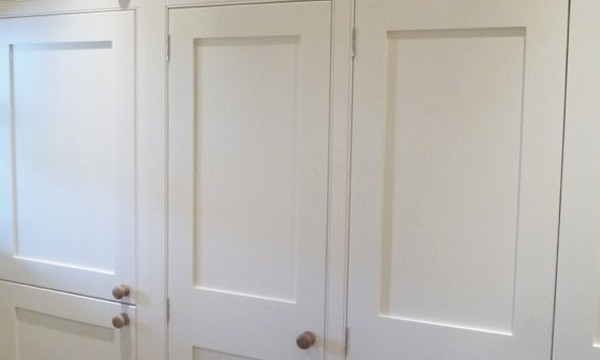 Following the first of it's kind of report, it's  now official, Britain needs and wants more storage cupboards!   "The Way we live now: What people need and expect from their homes"  is a new IPSOS MORI research report published today for the Royal Institute of British Architects (RIBA)*  today.
The report identified eight key features that people need and want  in their homes today, including space for functional items,  and for special personal possessions that are kept for a lifetime and dedicated storage for  domestic items such as the dreaded ironing board or vacuum cleaner as well as space for recycling and rubbish.
New housing it seems is not always blessed with the "glory hole"!
Anecdotally, we all have experience or know someone who favours the "flooredrobe" (and  yes, I am thinking of you, Dunham Juniors!!)
Or someone who  uses the vacuum cleaner to hang a clothes on as indicated on the BBC One Breakfast this morning, but the report goes on to highlight real examples of homeowners desperate for more storage, such as storing BOGOF food deals in the back of a car due to lack of kitchen storage in a newly built apartment.
 Peter Dunham of Dunham Fitted Furniture  has 20 years of experience of listening to what people want, drawing up plans, and making every kind of cupboard, wardrobe, shelving unit, bootroom and cloakrooms, welly holders…..   Each item is handmade and therefore can be made specifically to fit those items you don't know what to do with, or those favourite possessions you want to display.  With a creative eye on good design that will complement the period of your home and a eye on best use of space, you'll be amazed at the space that can be found, for instance under the stairs, where Peter has built both home offices and housing for tumble dryers, or in bay windows by building in storage for toys, magazines, cleaning materials, camping gear  underneath one of Peter's beautiful window seats.
Have a glorious cupboard, rather than a glory hole – your home is made to be enjoyed and to relax in, let's make it that way.
Mrs D.
*http://www.architecture.com//NewsAndPress/News/RIBANews/News/2012/
Henryneedsahometoo!SomeBritishhomeslackstoragespaceforbasichouseholditemsincludingthevacuumcleaner.aspx
http://www.architecture.com/HomeWise/RIBAresearch/RIBAResearch.aspx
https://dunhamfittedfurniture.co.uk/wp-content/uploads/2014/01/glory_hole_cupboard_utility.jpg
800
600
Mrs D
https://www.dunhamfittedfurniture.co.uk/wp-content/uploads/2013/04/web_logo.png
Mrs D
2012-05-16 11:51:30
2014-07-03 12:13:56
Britain Needs More Storage Cupboards! The Glory Hole Revolution